Visit Bueng Boraphet on the day without pink water lilly but with Uncle Sunthorn
That's Asian openbill,

This's snakebird,

That's an egret

….
The sound from the stern that tells the kind of birds is the sound of Uncle Sunthorn.
.
.
At Bueng Boraphet, a tourist destination that we have never thought of visiting.
As we never know what Bung Boraphet has, what fun will it be?
Today's trip began with the invitation of my husband.
We arrived in Nakhon Sawan with no plans in mind as to where we would go. Because the COVID situation makes us frustrated with planning ahead. (In the end, we canceled the plan due to the severe coronavirus site)
My husband invited me with the phrase "We arrived in Nakhon Sawan, we should visit Bueng Boraphet"
I was reluctant because I didn't know why to go to Bung Boraphet.
Take a boat? – I don't like to ride boats
See the view? How beautiful will the view be?
Will there be water for navigation? Along the way we drove past, I looked at the water in the river and saw that there was no water at all. It was so dry that it could even see the ground beneath some parts of the river.
And I also don't want to meet many people. To ride a boat it has to sit with a lot of people. I am afraid of COVID.
Etc.
I asked my husband a lot because I didn't want to go.
My husband calls to check everything, both the visitor center and the boat driver.
The amount of water was enough to drive a boat.
There is a private boat booking service, no need to worry that we will have to ride with others.
There were no pink water lilly, only Sacred lotus and the staff advised us to go in the evening to see the sunset
When my husband prepares everything so well, I can't deny it.
Let's go! I said.
Nakhon Sawan has good weather, clean city and beautiful roads.
We set up Google Maps to navigate to Bung Boraphet, but we were confused because there were too many results in Google Maps.
And where do we have to go?
We asked each other and then decided that Bueng Boraphet was the first list in Google Map, haha.
If you want to go on a boat to see the sunset, I have to tell you this is the wrong place! Because Bueng Boraphet, the first list on Google Map, is located at Phra Non, Takhian Makhran. At this point, we later realized that it was a place for bird watching, not boarding a boat to see the lake, and now it is closed for renovation.
If going to take a boat to watch the sunset, you have to search. "Bueng Boraphet Tourist Service Center" is correct.
Tourists often get lost because the Borapet Lake is very vast and there are many points that can be visited.
When we reach the visitor center We found a large parking lot with free pedal boats.
The day we went there were no tourists because it was not a holiday. We later learned that now there is no "Pink Water Lily" the highlight of Bueng Boraphet That will bloom to welcome us to the whole lake And tourists often like to take pictures with Pink Water Lily when they arrive here.
When there was no Pink Water Lily, the tourism is down.
The reason that Pink Water Lilly is not available to visit is due to the drought since last year (2019), causing the Pink Water Lilly to die.
We make an appointment for the boat driver at 4:30 PM.
We boarded a boat with an uncle who drove us today. He is wearing black sunglasses, is quite old but still looks strong and energetic.
When the ship leaves the port A cool breeze blows into our faces. The evening sun, although it was still not weakened, it did not make you feel hot. Because the vapors from the water and the freshness of the winds that hit us, we cool off surprisingly.
The sparkling light that appears on the water is like a sparkling jewel in the light. Bueng Boraphet, today there are no other boats except us.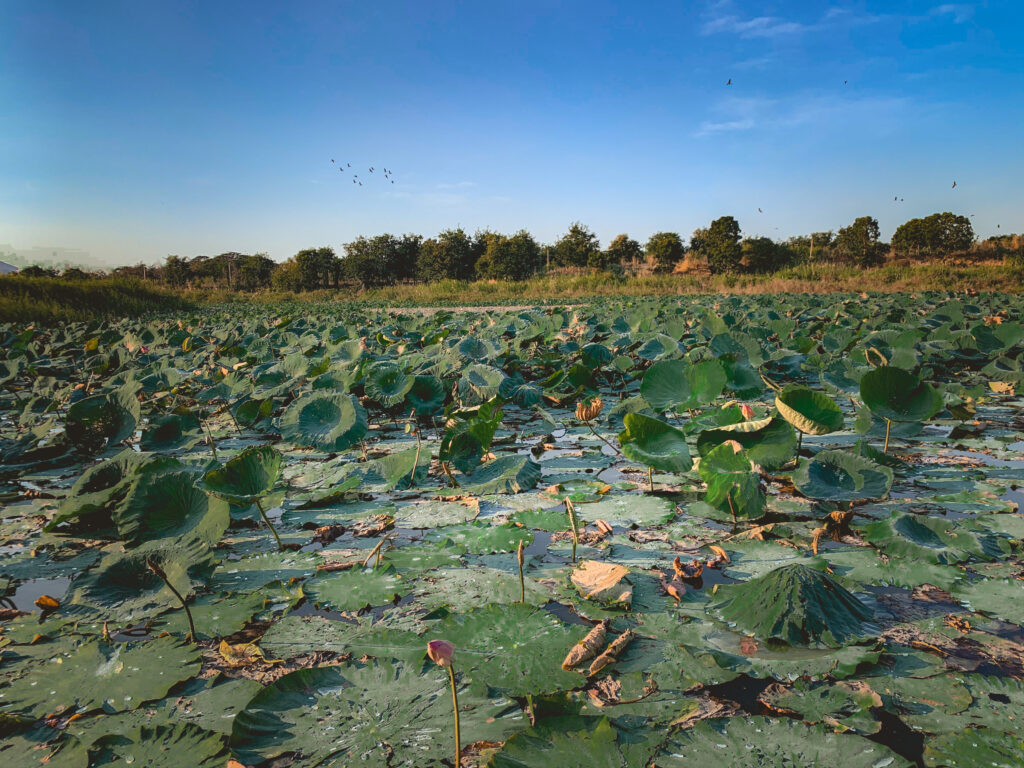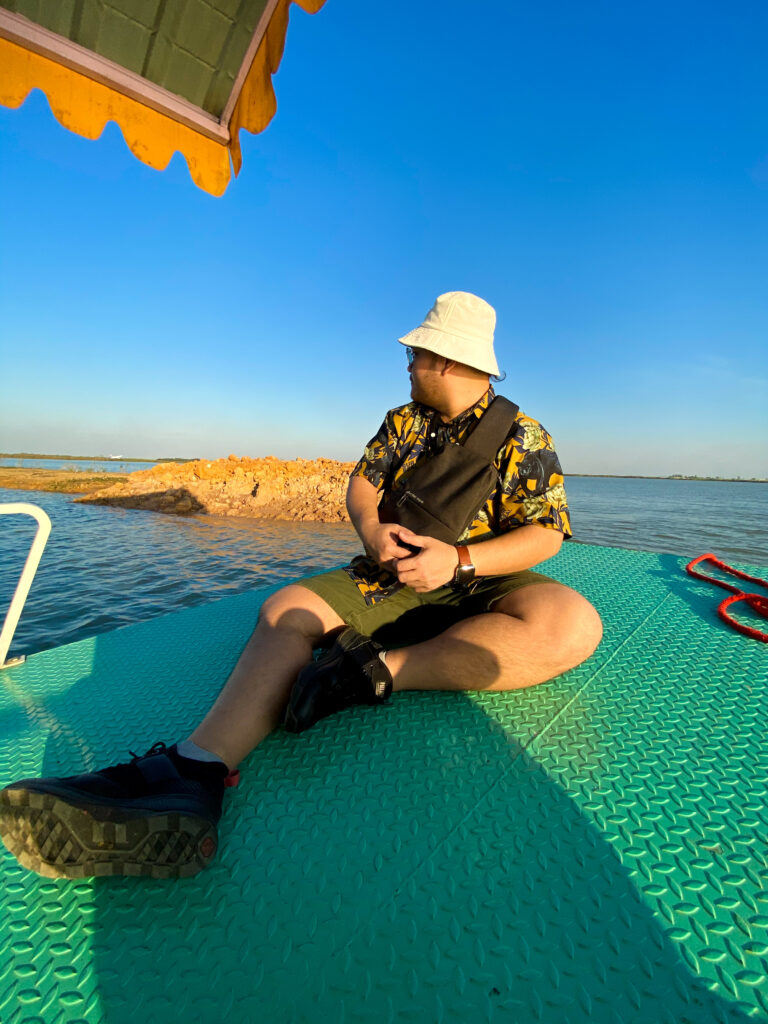 "It's beautiful." I grinned and said excitedly, before whispering out to the bow. Then sit down with the bottom of the boat to get a closer look at the atmosphere
That's Asian openbill,

This's snakebird,

That's an egret

….
The sound from the stern that tells the kind of birds is the sound of Uncle Sunthorn.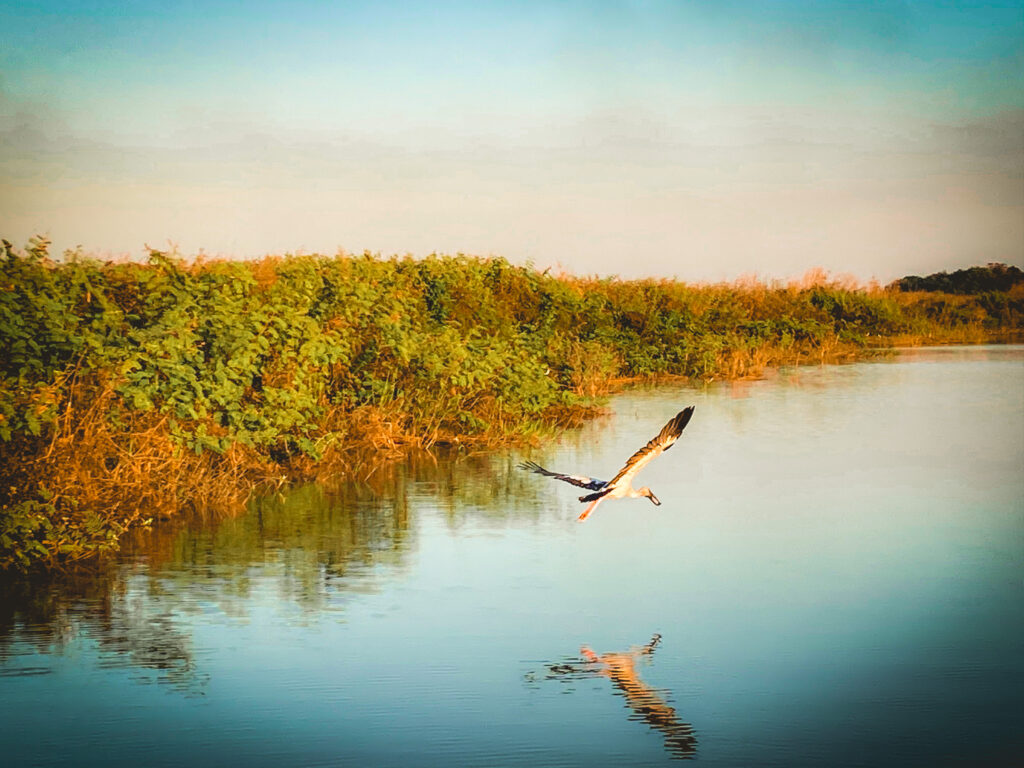 "The snakebird is like a snake. Look at its neck like a snake?" – Uncle Sunthorn turns off the engine to soften the sound of the boat engine and talk to us more clearly
Look in the direction that uncle pointed , we saw a large bird with has wet body perched on a branch. He was using natural wind and sunlight to dry his body.
And yes, its neck is like a snake, as an uncle said.
Is it wet? I said it was wet – we asked Uncle.
Yes… it went swimming and took the fish to eat. It swam like a fish, and when it got the fish, it came out as I saw it – Uncle said.
Is it swimming too? !! I didn't know that birds could swim !!? – We were so excited and asked.
It can swim, but it raises its neck and head in the water, making it look like a snake. Some people call it the snake-necked bird, I-Uncle explained to me.
I've never seen anything like this before. I live in Bangkok, and few species of birds are known. The tree is not well known, what is this?
I pointed at something that was on an island in the middle of the river.
"River Tamarind, there are a lot here. if we are lucky, we will see crocodiles to sunbathe as well. "
Uncle turned off the boat engine, our boat floated in the swamp and flowed with water until it came close to the island that Uncle said.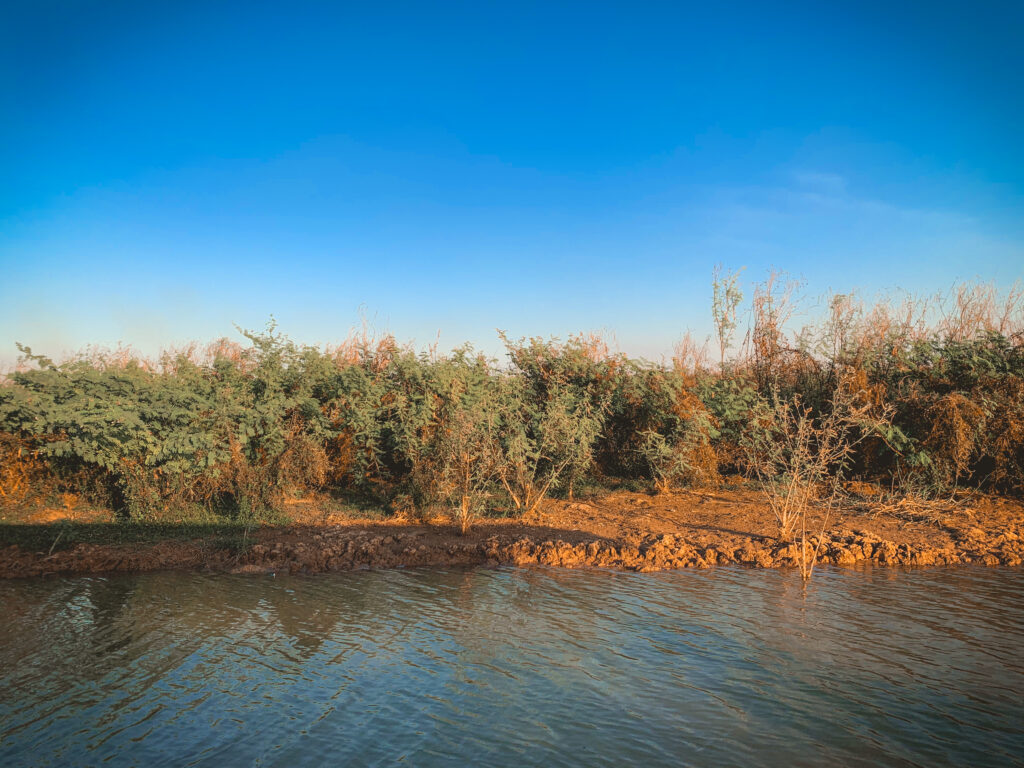 When he told me that there was a crocodile here, I was scared.
"Is there a crocodile here? Will it bite us? "I asked, then retreated into the middle of the boat.
"The crocodile is afraid of people. It sees us and has escaped" he said.
"Oh, but in the news I read, someone found a crocodile and the villagers fear it hurt or bite people. Is this a natural crocodile? I thought it came off the farm or somewhere" my husband asked.
"They can write any news. Honestly, these crocodiles already exist and they are afraid of people. It doesn't hurt people. It sees us and has escaped. This is the reason I say that if we are lucky So we can see it" he explained.
"Why is it called Bueng Boraphet?" My husband asked
"In the past, there were a lot of wormwood. Have you ever eaten a bitter wormwood? So he called it Bung Boraphet" he said.
Along the way, we are fully immersed in nature, bird watching, taking pictures tirelessly.
On this day, our happiness happened unconsciously. It is expressed in that smile that when we look back at every picture taken today, it is a smile that has been long gone since we were adults.
As I looked at the water and enjoyed its natural beauty, something came out in front of us that surprised me.
Uncle Sunthorn gave me two pink water lilly.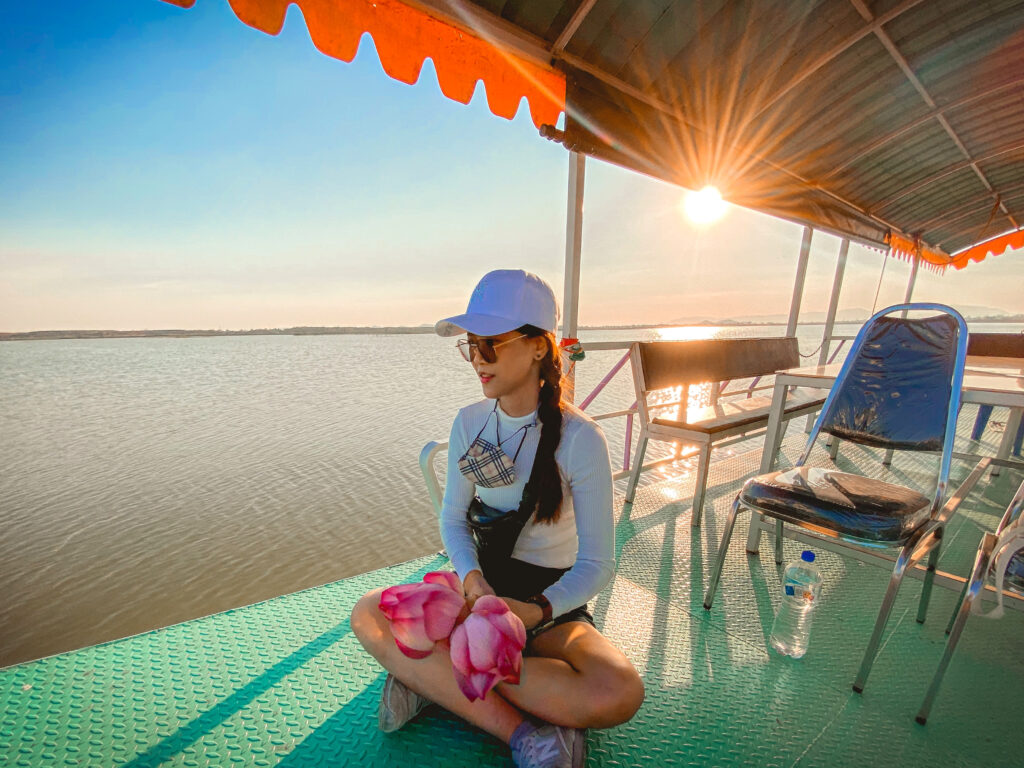 We were so glad that we couldn't stop smiling and thanked him many times. He's not only gave me one, but also picked fresh lotus seeds that can be eaten and handed over to my husband.
When I glanced at the stern of the boat, the sun began to descend, and I saw a huge halo shining right behind Uncle Sunthorn.
"You're really cool. Behind you is a shadow and the sun You're so cool!!" – I told him.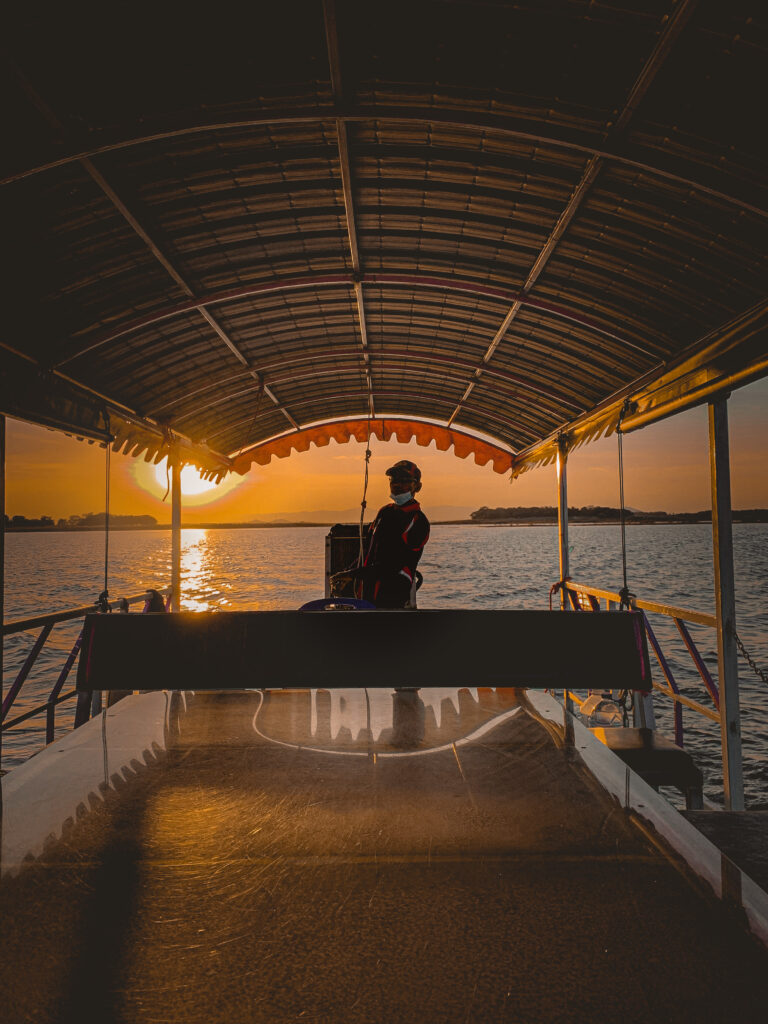 "Thank you" – He smiled.
I feel that he has started to trust us and give us a fair bit of friendliness. So we asked his personal profile because I wanted to get to know him more.
His name is "Sunthorn"
He was born in Nakhon Sawan Province and has always been a professional boat driver. He drove us to visit Bueng Boraphet, periodically turning off the engine. Because we both talk very well and are very skeptical
At one point he said, "You are lucky. I came to drive the boat because if it was someone else, they drove for a while and then brought it back to the shore. "
It was true because normally the boat driver only took 1 hour but he took us 2 hours away.
When the boat sailed along the river bank and reached the spot where the big sun was seen in front of him, Uncle said, unfortunately, we were a bit late because the sun started falling into the water almost completely.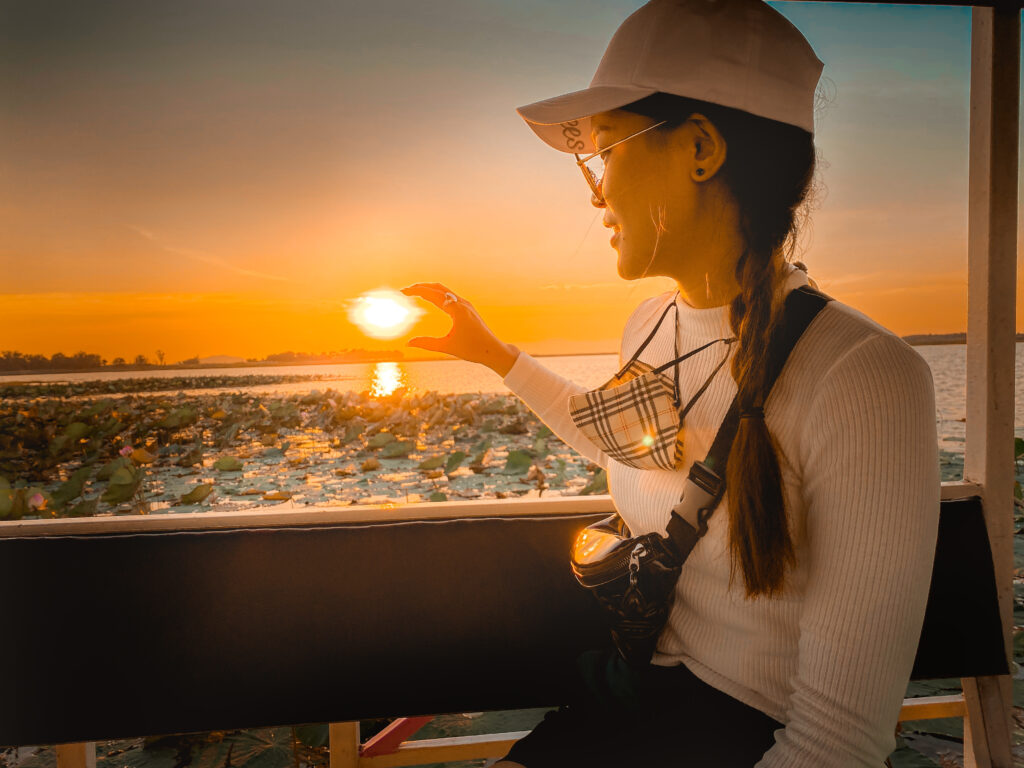 "It's alright, that's all I am very grateful for. Thank you very much. "I sincerely told him.
He continued driving the boat along the curves. After a while, he moored the boat still. We saw a house floating in the middle of the oil like a worker's home. There were little electrical appliances inside and surrounded by machines with long pipes.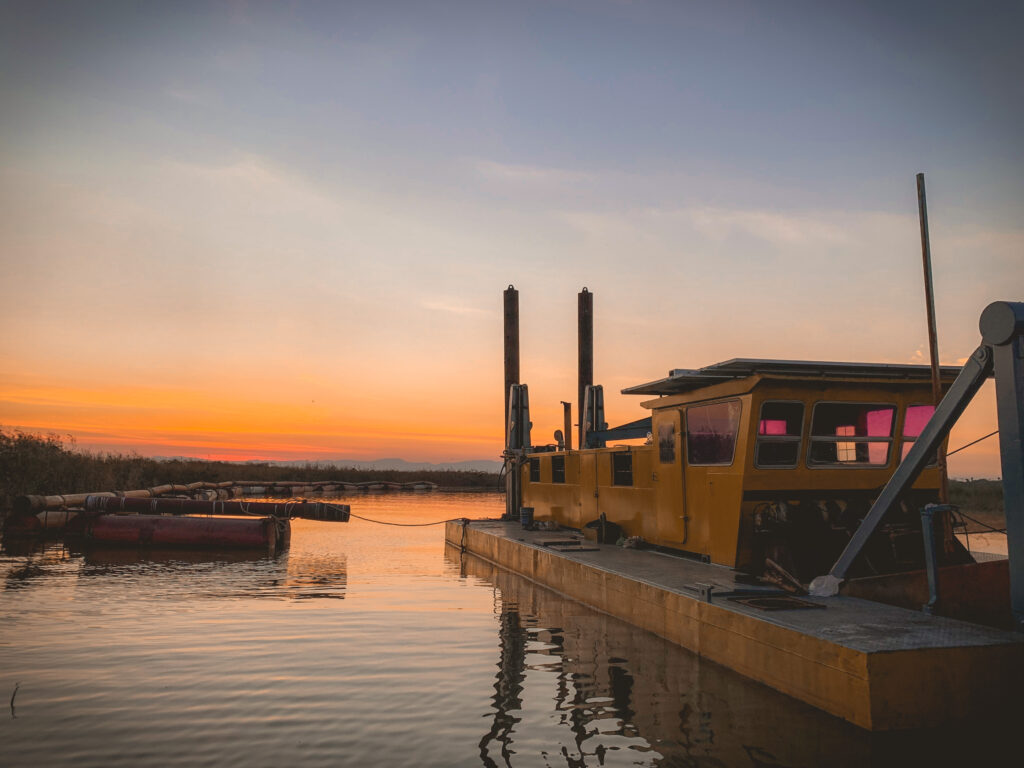 "This is the water pump for digging the pond, not to make it shallow, so the river can hold water. The house that was seen was set aside for the workers to sleep. They come together 1-2 weeks a period and they only came just a few days ago" – he said.
What he described, let us know that he intended to take us over to explain and educate us.
After the sunset, he took us back to the shore where we walked into the boat to send us safely to the port.
Almost two hours have brought us so much joy. We told him "Happy New Year" in advance and he blessed him back, which is our first adult's blessing on this New Year.
On this trip, we may not see Pink water lilly in full bloom like everyone else, but we have Uncle Sunthorn who brings joy to our hearts and makes us feel like we are the happiest day in 2020.
Big grateful to Uncle Sunthorn for being a lovely and kind guide to both of us.
Most importantly, I have to thank my husband for bringing back the smile on my face that I lost.
We promise we will go back again for sure 🙂