Visit Rustic Charm Suphan, it all begin with a dream and take care with love.
What is the most factor for you when choosing any homestay? 
Comfortable?, Beautiful?, large? or free breakfast?
For me, it will be a little different. Because I chose "quiet and privacy" is an important factors. And yes, Rustin Charm Suphan has a hundred percent answer to my needs.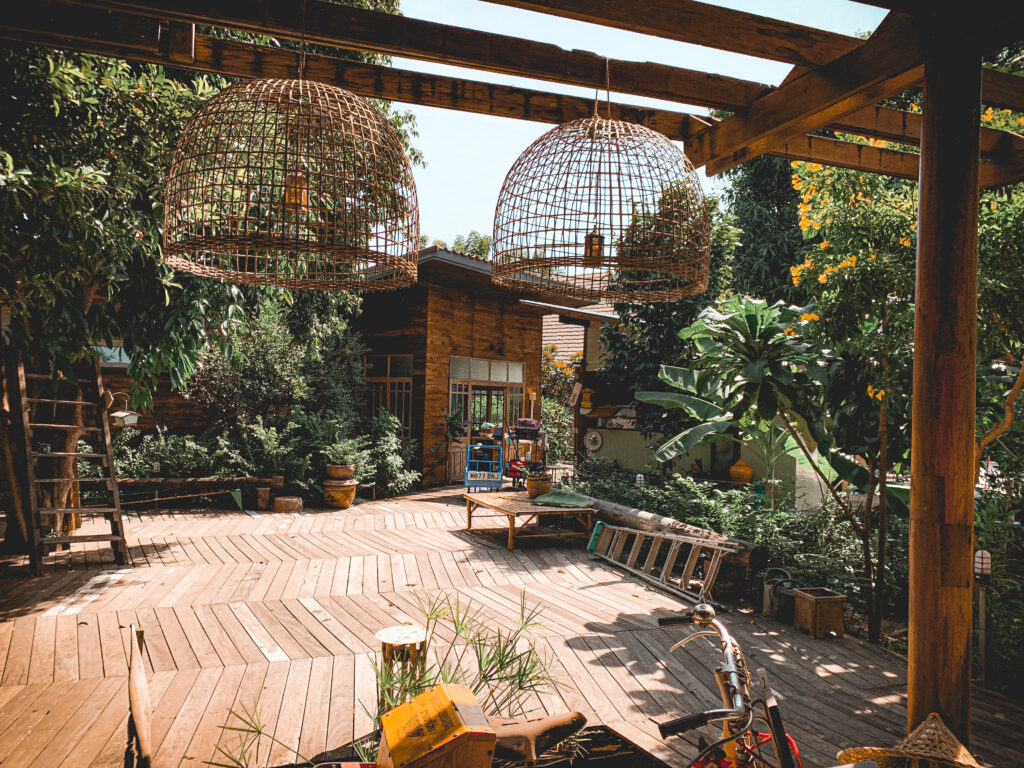 This homestay hidden in a shady garden in Suphanburi Province, built with love and care from two Thai and British couple. Invite us to stay with Agoda reviews that have a very high rating from other resorts.
The owner of the resort is very cute,
Very peaceful,
If you want to escape from the hustle, come here.
These sentences invite me not to hesitate to choose this accommodation as a sleeping place for my trip in Suphanburi.
The entrance is so mysterious.
If I didn't have a google map, I would have lost my way.
Google Map has solved the problem for us. But still secretly dreaded in my heart all the way past . Because the road is too narrow.
Finally, I find a large 'CHARM' sign that clearly indicates that I have reached our destination without fear of getting lost again.
The car park is very spacious. When finished park, you will see a small sign saying 'Enter the accommodation, walk up to a wooden bridge for 120 meters'.
Wooden bridge that is not an ordinary bridge. But it has a facade to pass through like a tunnel of time covered with lush green trees and decorated with the light of the sun that shines behind.
"It was very beautiful.!! " I told my husband who walked behind excitedly.
After walking through the tunnel, we will meet a number of houses with a name label like a little village in a fairly tale.
We had a chance to talk with P'Ann and her husband who are the owner of this homestay.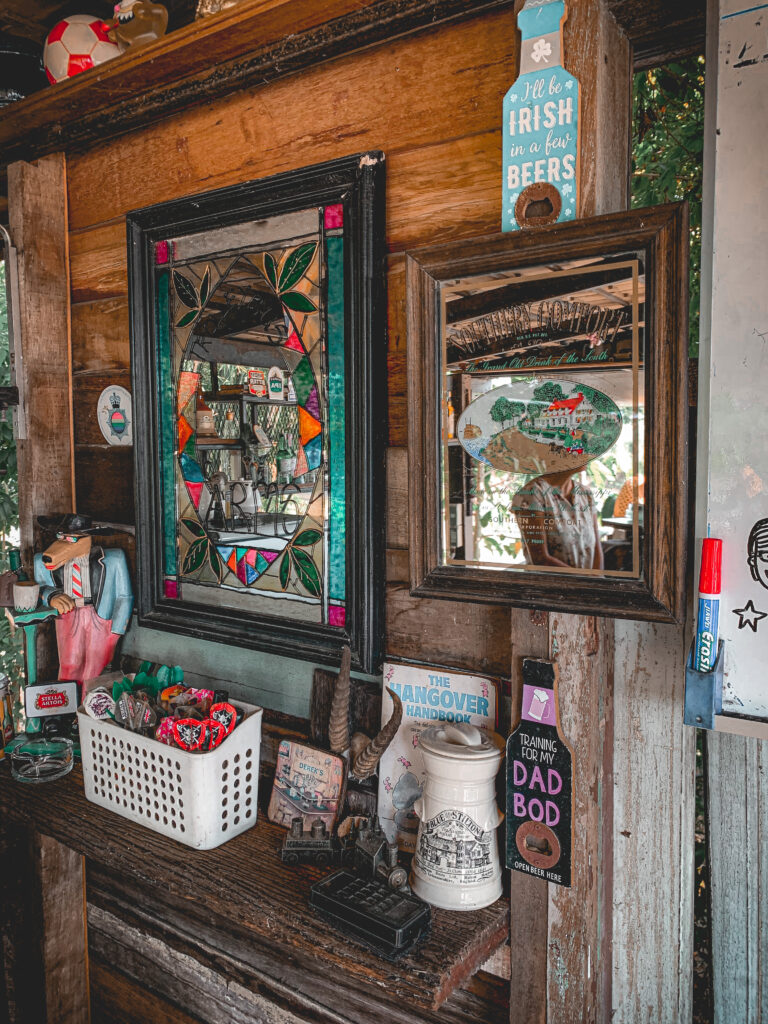 P'Ann had a lot of energy. She live in bangkok before and just moved to Suphanburi 6 years ago that's very amazed Because Suphanburi is far from comfortable and different from Bangkok so much.
"I have to stay .. and .. finally, I can really live." She said.
The most important thing to living in the countryside is "adaptation".
First adaptation is to adjust our own mindset.
In the past it was a wasteland. This place was as dry as the opposite side you saw. Finished speaking, she pointed to the opposite side. There was only a clump of dry grass.
When we come to build a house here. We have a feeling that if the villagers do that The villagers are like this, they will have a better life .. And I wonder, why don't they do that? .. Why are they not like this? I think for them everything ..
In the past ,I thought like this .. But when I came in and got absorbed, I realised that we shouldn't judge anything on behalf of others .. because they may already be happy and satisfied with their life. People who should change their minds ,It's me! not them.
"You said it was easy, but it was really difficult for me," my husband said.
"Yes, it's difficult but you have to do it. If you can't, you can't stay. Everything is adaptation" P'Ann said.
I used to be a worker. Everything I do must be perfect.
When I first came here, I can do everything all by myself.
Table, Pantry, even the design of the house.
What's the size of pipe you will need?
How about water pump?
And that system over there. I have to learn to understand them all, I learn from trial and error by yourself. That house, I designed the roof myself.
When I designed the roof myself, there was a problem. Because I don't know The rain will splash into the house when it rains, the slope is not enough . I learn and adjust together"
"Did you make this table by yourself?" – I asked and pointed at the table in front of me. I was surprised because it looked so strong and beautiful like a professional technician. She answered me , "Yes, uncle made it. (She called her husband -"Uncle.")
The wooden bridge you walk .. It is a replica of my family's childhood memories .. Our home in Bangkok is like that. After you walk for a while, there will be an arch of flowers .. and that's it .. so is my hometown too. Everything is a good memory when my family has been together. We collect all the memories and turn them into this resort" She smiled.
I have listened until now, I can feel that she is a warm-hearted person .. and her siblings love each other too. I can feel it since walking across the wooden bridge, as she said.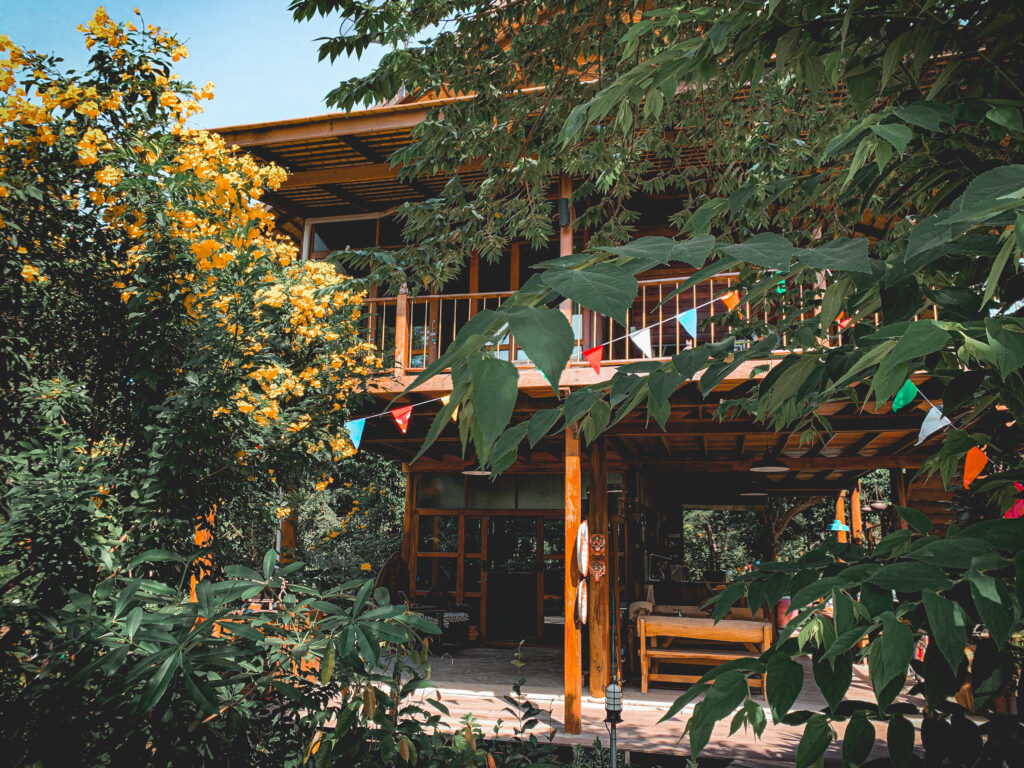 I believe that everyone who read this article will definitely want to stay at Rustic Charm Suphan and get to know Ann and her husband who owns Rustic Charm.
If anyone has the opportunity to stay at this resort, we would like to recommend you to touch the belly of "Boon-lieng", the orange cat who is a symbol of the resort. Because when I went there I wasn't a chance to meet him.
Thank you for a nice day, the accommodation is great, clean and very warm hearted.