Being a mahout and living with elephants at Maha Wang Chang Elephant Camp, Kanchanaburi, Thailand.
This is my first trip of 2020.
As we planned since 2019 and look forward to going to Japan on March 1-7, it has to be canceled because of the Covid-19 situation. During our plan, it was a period of severe outbreak in Japan and the situation had not resolved in a short time.
It's okay, Take it next chance to go to Japan again. So we changed our destination to Kanchanaburi instead.
This trip, my husband arranged for all accommodation and travel bookings in one day.
We go to Kanchanaburi Departing on March 1, driving down the road without haste.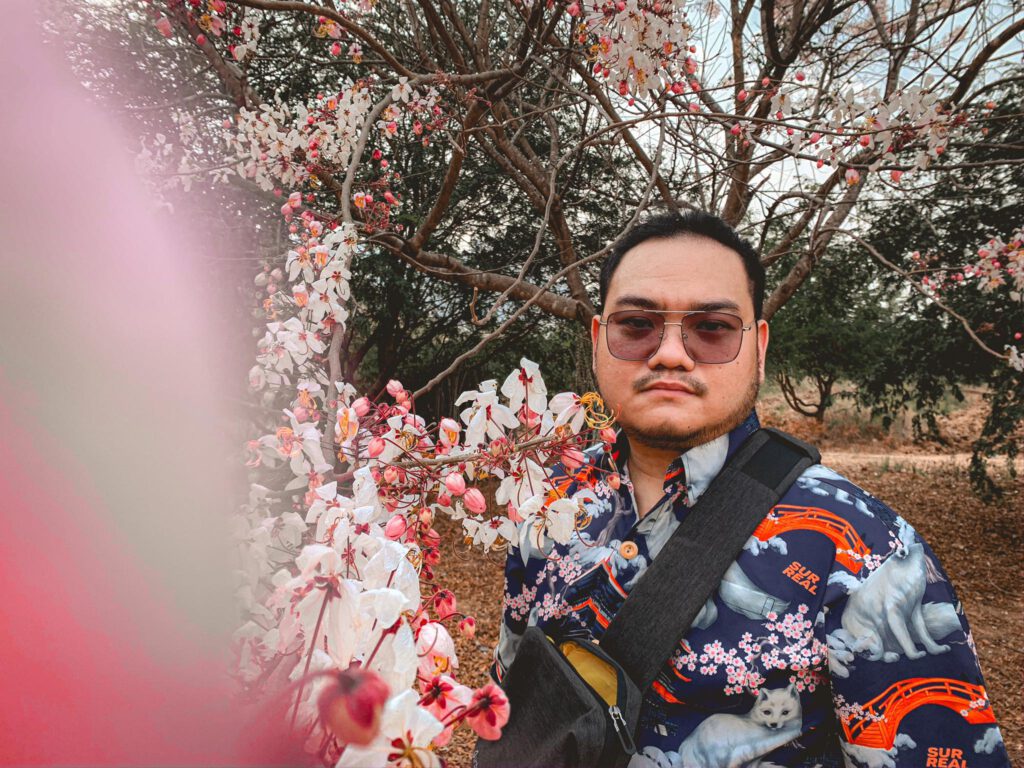 The first destination we want to go to "Meena Cafe" which is a famous cafe in Kanchanaburi.
Meena means "rice fields" (in Thai)
But we can't see any cafes in the rice fields. Open the car windows and I asked the motorcyclist around there, 'Where should I go?
The motorcyclist was confused, as if he had never heard of this restaurant before. It made me realize that if we keep driving it will be difficult to find. So we chose not to go.
So we change our destination to "Tam Lan toong" instead.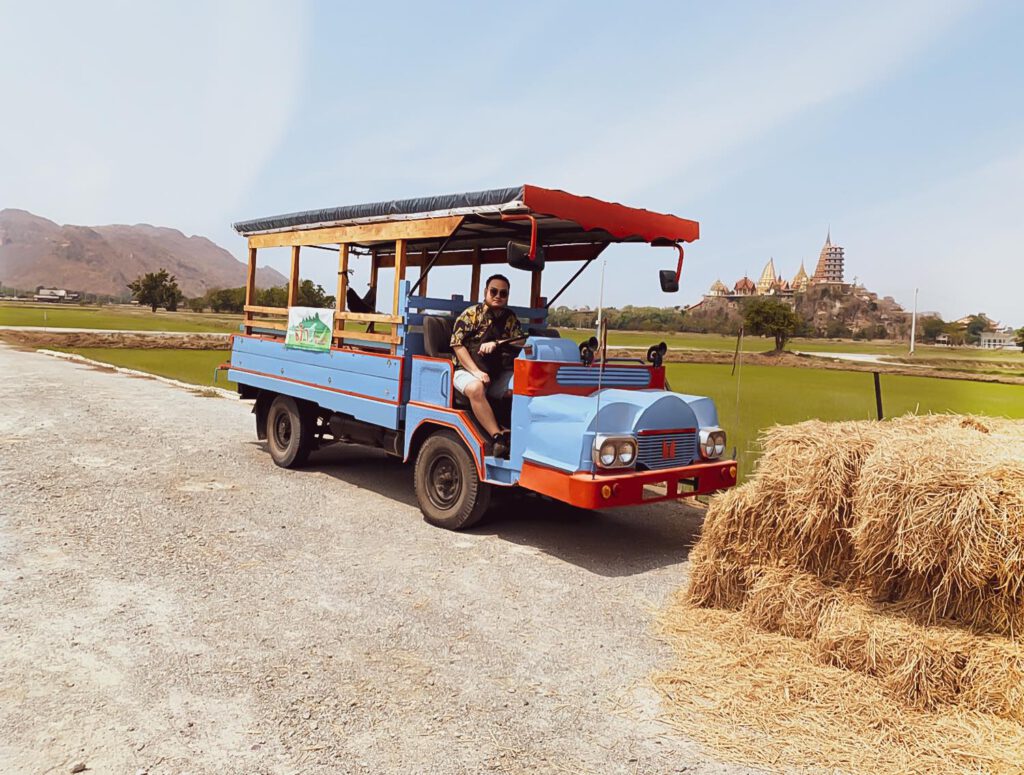 Restaurants where the famous papaya salad is served as well as the name of the restaurant
But we both ordered "stir-fried basil and soup" for two because we were afraid of diarrhea that we had trouble with traveling. We ate until we were full and then headed to Wat Tham Sua, which is not far away.
Wat Tham Sua (Tiger Cave Temple)
Immediately after getting off the car To walk into the Tiger Cave Temple, we have experienced the sentence that "Kanchanaburi is the province with the hottest sun in Thailand"
It was absolutely true!! we exclaimed "Is this sunshine or hell !!" .. It was so hot that the sun could penetrate under our skin.
At "Wat Tham Sue", You will have to walk the steep stairs to worship the holy one above, but those who are afraid of heights are especially scared when walking down.. But fortunately for me, I had a helper on the side of the stairs that was "tram".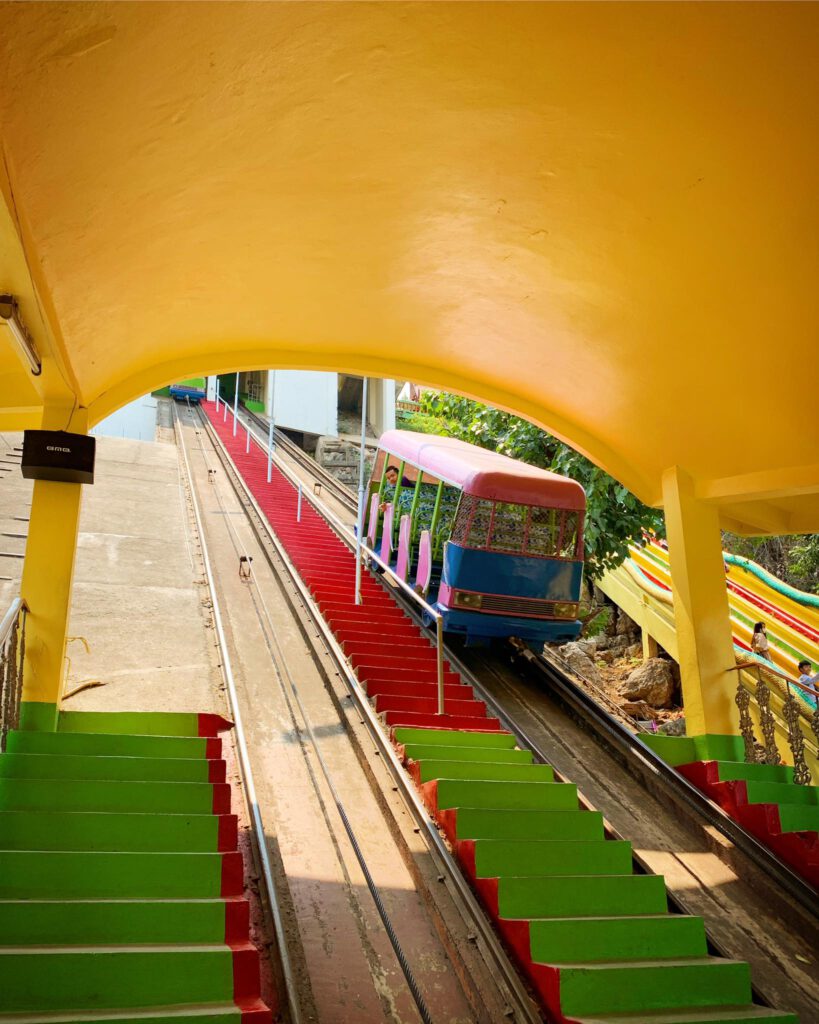 Only 10 baht per person will bring me to the destination without fear of heights anymore.
The top floor is a courtyard and a chapel with niches that can catch the wind and see the view. Wind in this province Can't beat the heat of the sun at all. We took pictures and raised our hands to pay respect to the Buddha. We hurried downstairs by tram because our eyes are vulnerable to getting sunburned from too much exposure to UV rays.
The next destination is Kwai Thara, our accommodation.
Kwai Tara is a good accommodation, airy, comfortable, good service.
The first night we both fell asleep to the sound of a wooden raft hitting the room, like lying on the sea. And there were waves that were blowing all night long. Because we choose to sleep at the house on the corner of the river, causing the wood and big branches to flow and get stuck under our house
Maha Wang Chang Elephant Camp
The next day, we set out to bathe the elephants at "Maha Wang Chang Elephant Camp".
Maha Wang Chang Elephant Camp is the place that we are most impressed and liked the most for this trip.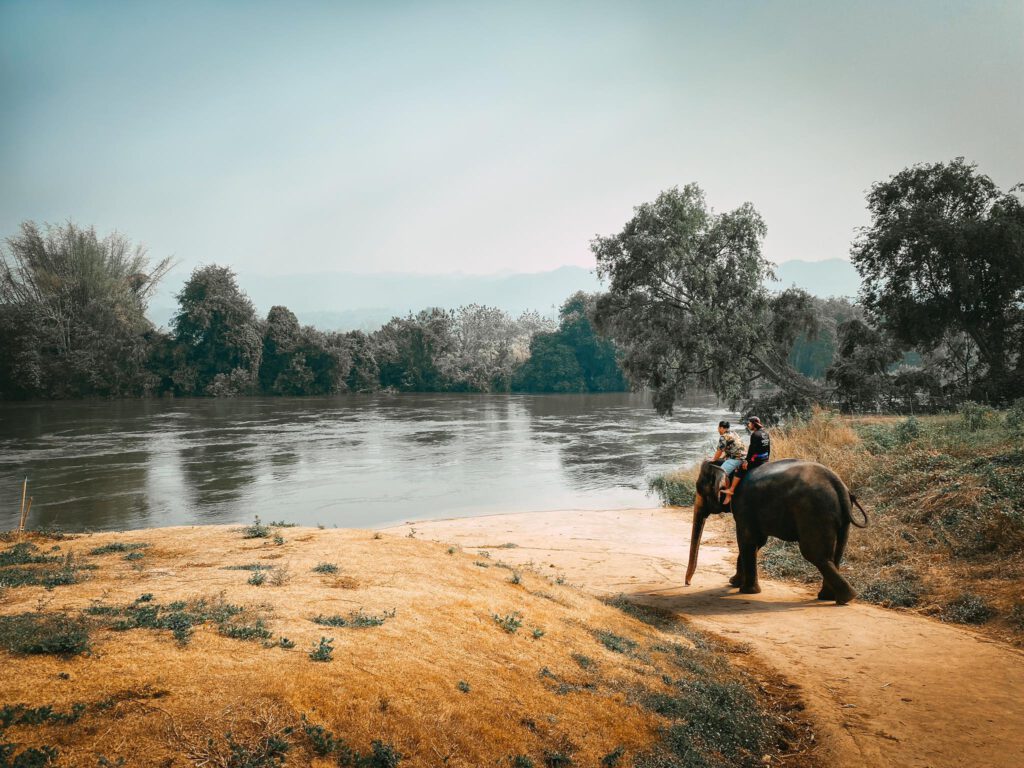 We can feel that mahouts love elephants and take good care of them.
At the queue, we can bathe the elephants. We glanced over to see the board saying "Mam." We thought that the mahout also had women. But later learned that "Mam" is the name of the elephant.
Mam is a 28-year-old elephant, female. She is an adult elephant. But also has a mischievous nature like a child.
It was my husband who went down to bathe her. As for me, I do the shooting. She is in a good mood, the ears and tail sway, playing with my husband at the orders of the mahout. She splashing water, goes diving, take my husband right down to the river. All of this is what she entertains tourists.
We are the first couple of the day who Bathing the elephants.
The mahout tells us that we can play for as long as possible. Because there is still no queue next to us, but we are afraid the elephants will be tired. So we were considerate, so it only took 30 minutes.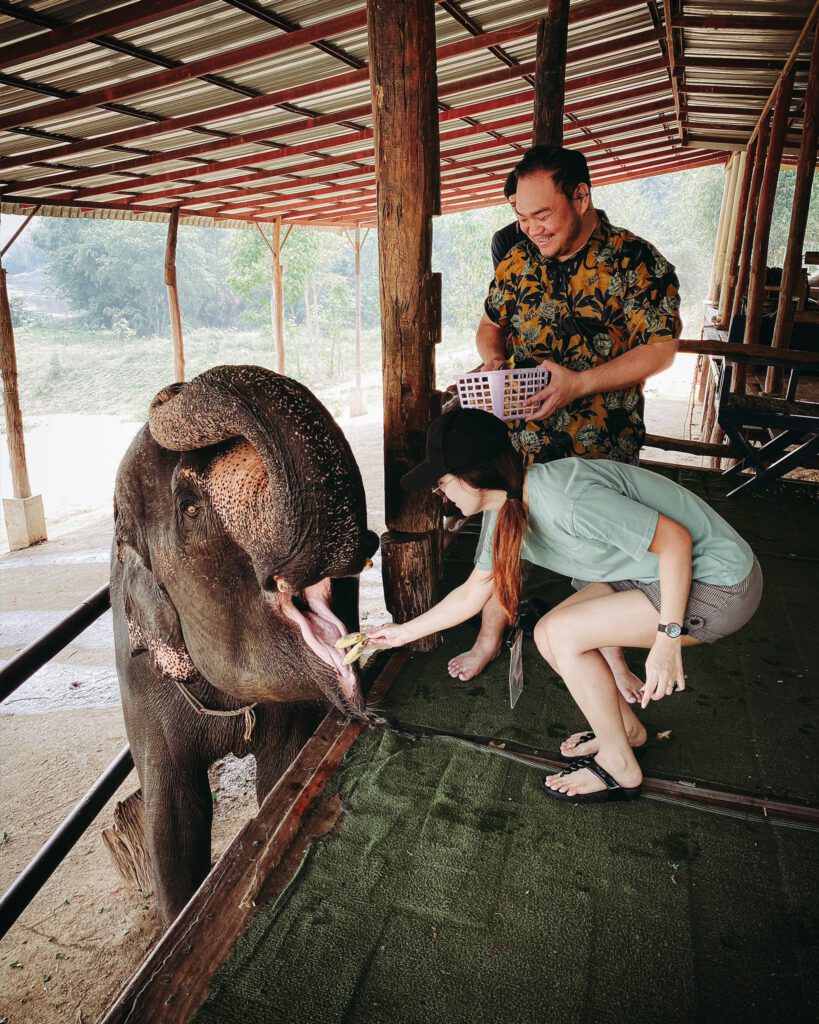 This is the first time we have touched an elephant, elephants are not as soft because they are hairless like the cats we used to raise, they are smart and sometimes seem smarter than us.

All the time she played with my husband. I took a picture of her, and when we looked at it later, we saw that he was always looking at us. Amazing !! She looked at the camera !!
She must have been trained to know what kind of pose for a human to take .. We can only hope that by training like this, she will not be hurt or tortured in order to follow the commands of the mahout.
Based on the symptoms she shows, we can be certain that she is happy because her ears wag, her tail sway, and this is a symptom of a happy elephant.
During the elephant bathing , the mahout invited me to take a photo with my husband ,he took a picture for us. When we look at the picture, we find that ..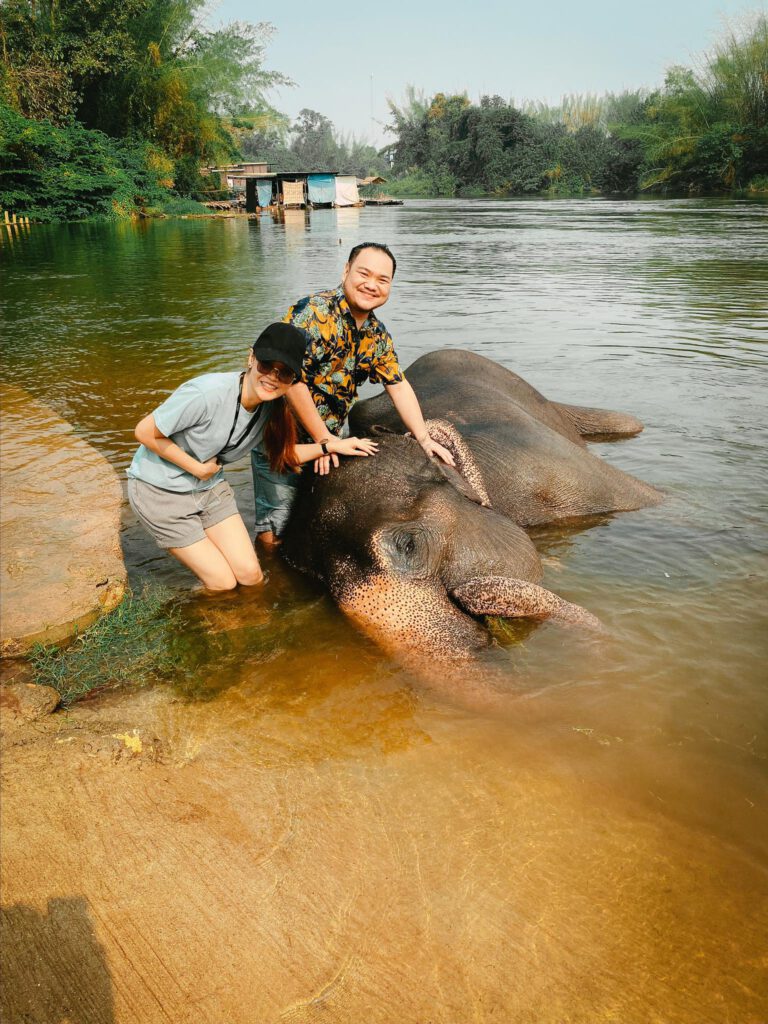 As the elephant lay down with her eyes closed as seen in the photo above. Her trunk under the water grazing the grass.
Figure 1: She uses her trunk to pull the grass under the water
Figure 2: She moves her trunk closer to her mouth.
Figure 3: She puts grass in her mouth.
We saw and laughed that she must be hungry hahaha.
Luckily for her because after we finished showering her, we fed her a lot of bananas.
Anyone who travels to Kanchanaburi and wants to live with elephants, we recommend coming here. … The mahout tells us to come at noon during Songkran (April), the flowers are beautiful and can ride elephants to see the scenery around.
But I think that next time we don't want to see the view at all because the elephants walk and get hot.
I'd like to invite the visitors to choose a bath for the elephants so they can swim, which is what they already enjoy.